Crystal Wai Man Chan



陳慧雯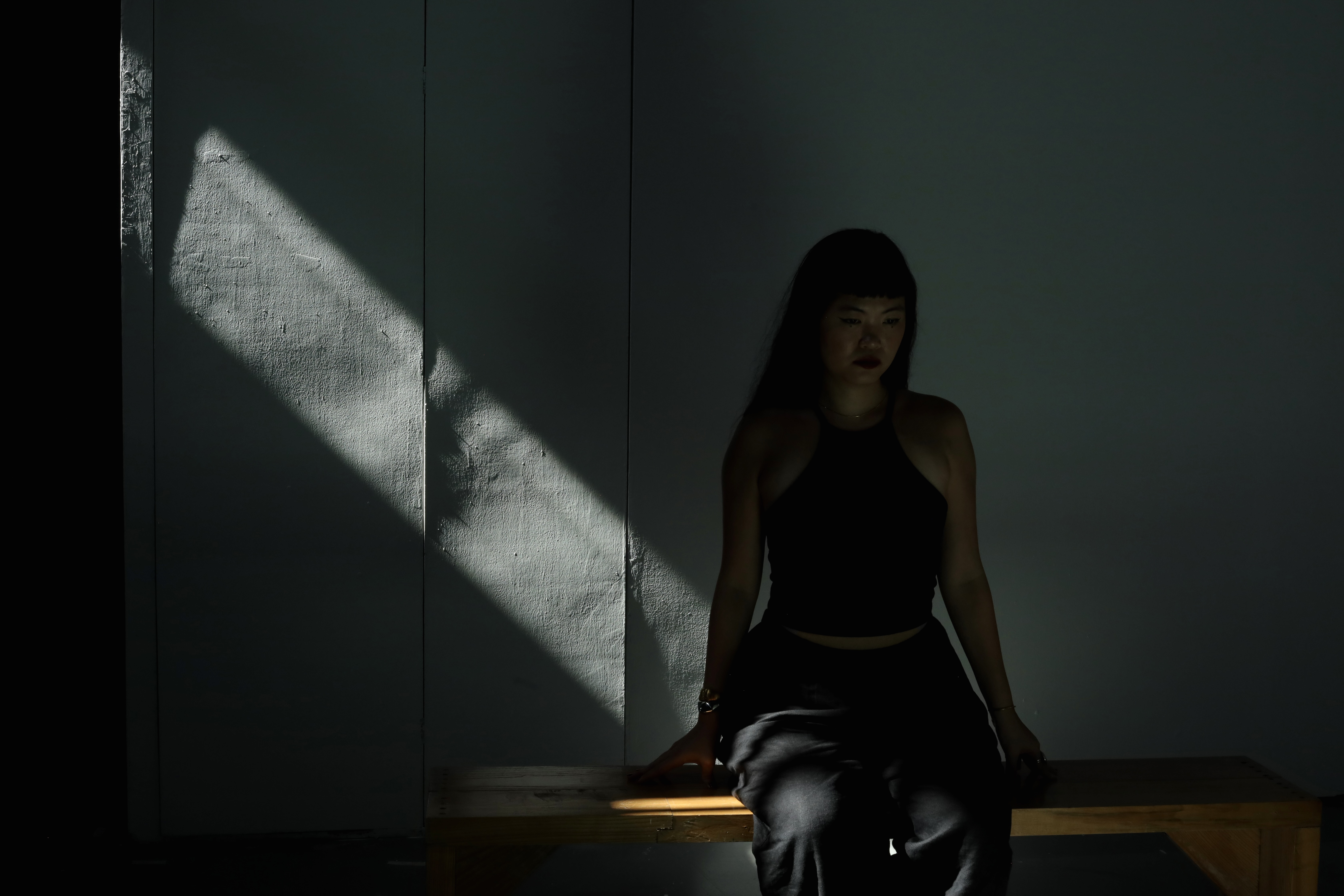 Crystal Wai Man Chan is an artist born and raised in Macao. She has studied and worked in Taiwan, Greece, and New York. She earned her Bachelor of Fine Arts degree at the School of Visual Arts in New York and her Master of Fine Arts degree at Purchase College, State University of New York. Her art practice includes painting and sound installation.

Affect and atmosphere are two main elements in Chan's artwork. Historical events and cross-cultural influences have led her to question the complexity of identity and representation. She combines both uncanny and familiar elements to address a position and feeling of displacement and estrangement. In her painting, isolated figures and desolate landscapes are drawn with expressive lines and brushstrokes. While in her sound installations, field recordings and improvised music are put together with the installation to create an otherworldly setting, provoking consideration of environmental and development issues.

She has had solo exhibitions in Macao (Creative Macau, 2020; Art For All Society, 2019; Albergue SCM, 2015) and New York (National Arts Club, 2018; Chinese American Arts Council, 2018). Group exhibitions include Art Macao: Macao International Art Biennale 2021, ARTFEM Women Artists International Biennial of Macau and Nick Knight's SHOWstudio in London. She received grants from the Macau Cultural Affairs Bureau (2015-2018 and 2019-2021) and Art For All Society Macau (2015) for her study in New York. She is the winner of the 2017 Will Barnet Student Show at the National Arts Club in New York. She worked for Japanese artist Takashi Murakami in his studio in New York in 2018. She has participated in Artist Residency programs in Portugal, Japan and China.
陳慧雯是在澳門土生土長的藝術家。 她曾在台灣、希臘和紐約學習和工作。她在紐約視覺藝術學院(School of Visual Arts) 獲得藝術學士學位,其後在紐約州立大學 Purchase 學院獲得藝術碩士學位。 她的藝術創作包括繪畫和聲音裝置。

情感和氛圍是她的作品的兩個主要元素。在她的成長過程中,經歷了澳門從葡萄牙回歸到中國,她自己亦曾在不同地方生活,這種文化轉移,和身份的轉換,令她深刻體會到身份的複雜性,以及身份於社會當中受到的偏見與期望。在她的作品裡,事物既遠且近,既熟悉且陌生,以表達人與四周環境所產生的錯置之感。在她的畫作中,孤獨的人物及荒涼的風景,以情感強烈的線條和筆觸呈現。在她的聲音裝置中,結合田野錄音及即興音樂的編曲,並與裝置中的場景搭建,營造了抽離的氛圍,亦是對城市發展所帶來的環境轉變的情感投射。

她曾在澳門( 創意空間,2020;全藝社,2019;婆仔屋文創空間,2015)及紐約( 國家藝術俱樂部,2018;華美藝術協會,2018 )舉辦個展。群展包括:藝文薈澳-澳門國際藝術雙年展 2021、ARTFEM 國際女藝術家澳門雙年展、 攝影藝術家 Nick Knight 於倫敦創辦的 SHOWstudio 作品展。分別獲得 2015 及 2019 年度澳門文化局文化藝術學習資助計劃獎學金、2015 年澳門全藝社獎學金,以赴及紐約修讀藝術。2017 年獲得紐約國家藝術俱樂部舉行的 Will Barnet Student Show 首獎。2018 年擔任日本藝術家村上隆紐約工作室製作助理。曾參與葡萄牙、日本及中國的藝術家駐留創作計劃。
EDUCATION

2019 – 2021 MFA
State University of New York, Purchase, NY

2015 – 2018 BFA
School of Visual Arts, New York, NY
SOLO AND TWO-PERSON EXHIBITIONS




"Mountain Surrounded by Sea" with Benjamin Kidder Hodges, Creative Macau, Macau, 2020

"idle hands are the devil's playthings", Art For All Society, Macau, 2019

Will Barnet Award Solo Exhibition, National Arts Club, New York, 2018

"I Am My Own Landscape", Chinese American Arts Council, New York, 2018

"I Am My Own Landscape", Albergue SCM, Macau, 2015

"Forever Someone Else", Art For All Beijing, Beijing, 2015

"Living in the Memories of the Future Self", Livraria Portuguesa, Macau, 2014

"Something About" Photo Exhibition with Wong Kei Cheong, Stage, Macau, 2012

SELECTED GROUP EXHIBITIONS

"Four Seasons" 20th Anniversary Exhibition, Creative Macau, Macao, 2023
"Drawing Daphne", Nick Knight x SHOWstudio, London, 2023

"Ancestral Echoes: A Decade of Bio Art", SVA Flatiron Gallery, New York, 2022

Art Macao: Macao International Art Biennale, Macao Contemporary Art Center Navy Yard, Macau, 2021



"Ghost of Presence", Susan Eley Fine Art, New York, 2021


"Weight of the Air", PS122, New York, 2021



"Weight of the Air"

, Richard and Dolly Maass Gallery, New York, 2021

Macau Arts Salon, Clube Militar de Macau, Macau, 2020

AFA Autumn Salon, Fundação Oriente, Macau, 2020

ARTFEM Women Artists International Biennial of Macau 2nd Edition, Albergue SCM, Macau, 2020

New Women Macau Contemporary Art Exhibition, Auditorio do Carmo da Taipa, Macau, 2020

Art Taipei, Taipei World Trade Center, Taiwan, 2019

Shiro Oni Artist in Residence Exhibition, Onishi Jyuchiya Old Brewery, Onishi, Fujioka, Gunma, Japan, 2019

The Script Road Exhibition, Macao Contemporary Art Center Navy Yard, Macau, 2019

ARTFEM Women Artists International Biennial of Macau 1st Edition, Macao Museum of Art , Macau, 2018

Milan SS18 Fashion Illustration, Nick Knight x SHOWstudio, London, 2017

Will Barnet Show, National Arts Club, New York, 2017

"Mind Set" SVA Fine Arts Group Show, SVA Flatiron Gallery, New York, 2017

Illustration Exhibition, The Little Lodge, San Francisco, 2016

Illustration Exhibition, Rui Cunha Foundation, Macau, 2016

"Brokedown Palace" Juried Exhibition, SVA Chelsea Gallery, New York, 2016

"Most and Salty" GALO Photo Exhibition, Ox Warehouse, Macau, 2016

Affordable Art Fair New York, Metropolitan Pavilion, New York, 2015

Taichung Light Festival, Taichung, Taiwan, 2015

AFA 8th Anniversary Member Exhibition, Art For All Society, Macau, 2015

Art Mo International Art Fair, The Venetian, Macau, 2014

"This Is My City" Residencies Exhibition, Design Center, Macau, 2014

AFA Autumn Salon, Fundação Oriente, Macau, 2014

"Symbols in Cultures" Exhibition, Creative Macau, Macau, 2014

"Anno Equitum" Horse Exhibition, Venetian, Macau, 2014

CCFA Macao Pavilion, The Venetian, Macau, 2013

Art Fair, Marina Bay Sands, Singapore, 2013

AFA Autumn Salon, Fundação Oriente, Macau, 2013

"New York, New York", MGM L2Gallery, Macau, 2013

"Art Macau", The Venetian, Macau, 2013

Affordable Art Fair New York, Metropolitan Pavilion, New York, 2013

Affordable Art Fair Hong Kong, Convention & Exhibition Centre, Hong Kong, 2013

The Script Road Exhibition, Old Court House, Macau, 2013

Waves: AFA 5th Anniversary Exhibition, Art For All Society, Macau, 2012

AFA Autumn Salon, Fundação Oriente, Macau, 2012

Contemporary Art Fair, Convention & Exhibition Center, Hong Kong, 2012

The Script Road Exhibition, Old Court House, Macau, 2012

ARTIST RESIDENCIES


Aurua Sugar House Artist Residency, Yangshuo, Guilin, Guangxi, China, 2022
Seatopia Artisit in Residence, Beidaihe, Qinhuangdao, Hebei, China, 2021

Shiro Oni Studio Art Residency, Onishi, Fujioka, Gunma, Japan, 2019

"This Is My City" Creative Residencies, Montemor-O-Novo, Évora, Portugal, 2014

International Contemporary Dance Festival, Bytom, Poland, 2011
SCHOLARSHIP AND AWARDS

State University of New York, Purchase College, School of the Arts Scholarship, New York, 2019 – 2021

Cultural Affairs Bureau Grant for Artistic and Cultural Study, Macau, 2019 – 2021

National Arts Club Will Barnet Show, First Prize, New York, 2017


School of Visual Art BFA Fine Arts Special Department Grant, New York, 2015 – 2017


Cultural Affairs Bureau Grant for Artistic and Cultural Study, Macau, 2015 – 2018


Art For All Society Art Scholarship, Macau, 2015 – 2017


City Literary Creation Awards, Hong Kong, 2008



RELATED WORKING EXPERIENCE

Expressive Painting Workshop Instructor, Choi Kai Yau College, University of Macau, Macao, 2022

Introduction to Drawing Instructor, Purchase College, SUNY, New York, 2020 - 2021

Studio Assistant, Takashi Murakami - Kaikai Kiki NY Studio, New York, 2018

Coordinator, The Script Road - Macau Literary Festival, Macau, 2012-2019

學歷
2019 – 2021 紐約 紐約州立大學 Purchase 學院 藝術碩士學位
2015 – 2017 紐約 視覺藝術學院 藝術學士學位
個展及雙人展
2020 澳門 創意空間 「被海包圍的山」– 與Benjamin K. Hodges
2019 澳門 全藝社 「閒下來的雙手淪為惡魔的玩物」
2018 紐約 國家藝術俱樂部 "Will Barnet Award" 首獎藝術家個展
2018 紐約 美華藝術協會 「我是我自己的風景」
2015 澳門 婆仔屋文創空間 「我是我自己的風景」
2015 北京 北京全藝社 「永遠的他者」
2014 澳門 葡文書局畫廊 「活在明日的回憶裡」
2012 澳門 驛站 「Something About」攝影展-與黃祺昌
部份聯展
2023 澳門 創意空間「春夏秋冬」創意空間20週年慶典會員聯展
2023 倫敦 SHOWstudio x Nick Knight "Drawing Daphne"
2022 紐約 視覺藝術學院 Flatiron 畫廊 "Ancestral Echoes: A Decade of Bio Art"
2021 澳門 當代藝術中心-海市工房1號 「藝文薈澳」澳門國際藝術雙年展
2021 紐約 Susan Eley Fine Art "Ghost of Presence"
2021 紐約 PS122 Gallery "Weight of the Air"
2021 紐約 Maass Gallery "Weight of the Air"
2020 澳門 陸軍俱樂部 「澳門藝術沙龍暨流金歲月1870~2020」
2020 澳門 氹仔嘉模會堂 第三屆澳門新女性當代藝術聯展
2020 澳門 東方期金會 全藝社秋季沙龍
2020 澳門 婆仔屋文創空間 ARTFEM 第二屆國際女藝術家澳門雙年展
2020 紐約 Maass Gallery "Keep Me Company"
2019 台北 世界貿易中心 台北國際藝術博覽會
2019 日本 Shiro Oni Studio 駐場藝術家聯展
2019 澳門 當代藝術中心-海市工房1號 「雋文不朽」第八屆澳門文學節藝術展覽
2018 澳門 藝術博物館 ARTFEM 第一屆國際女藝術家澳門雙年展
2017 倫敦 Nick Knight x SHOWstudio 時裝插畫展
2017 紐約 國家藝術俱樂部 "Will Barnet Student Show"
2017 紐約 視覺藝術學院 Flatiron 畫廊 "Mind Set"
2016 澳門 官樂怡基金會 插畫聯展
2016 三藩市 The Little Lodge 插畫聯展
2016 紐約 視覺藝術學院 Chelsea 畫廊 "Brokedown Palace"
2016 澳門 牛房食庫 「寫真發情」公雞攝影同人誌展
2015 紐約 大都會館 「買得起」藝術博覽會 2015
2015 澳門 全藝社 全藝社八週年會員新作展
2014 澳門 威尼斯人 「藝術澳門博覽會-藝術澳門新視覺」
2014 澳門 設計中心 「我的城市」創作藝術家回顧展
2014 澳門 東方基金會 全藝社秋季沙龍
2014 澳門 創意空間 「文化暗號」
2014 澳門 威尼斯人 「Anno Equitum」馬雕塑繪畫創作
2013 澳門 威尼斯人 「澳門文化藝術品收藏展暨澳門藝術家巡禮」
2013 新加坡 濱海灣金沙會展中心 藝術博覽會
2013 澳門 東方基金會 全藝社秋季沙龍
2013 澳門 美高梅二樓藝廊 「紐約藝術色彩之旅」澳門藝術家聯展
2013 澳門 威尼斯人 「藝術澳門博覽會」
2013 紐約 大都會館 「買得起」藝術博覽會
2013 香港 會議中心 「買得起」藝術博覽會
2013 澳門 舊法院 「雋文不朽」第二屆澳門文學節藝術展覽
2012 澳門 全藝社 「前浪・後浪」全藝社五周年會員作品展
2012 澳門 東方基金會 全藝社秋季沙龍
2012 香港 會議中心 當代博覽會
2012 澳門 舊法院 「雋文不朽」第一屆澳門文學節藝術展覽
藝術家駐場計劃
2022 中國 廣西桂林陽朔 糖舍酒店藝術家駐留計劃
2021 中國 河北秦皇島北戴河 蔚藍海岸北北藝術家駐留
2019 日本 群馬県藤岡市鬼石町 Shiro Oni Studio 藝術家駐地
2014 葡萄牙 Montemor-O-Novo, Évora 「我的城市」藝術家駐場
2011 波蘭 Bytom 國際現代舞節
獎項
2019 - 2021 紐約 紐約州立大學 Purchase 學院 藝術學院獎學金
2019 - 2021 澳門 文化局文化藝術學習資助計劃 碩士學位獎學金
2017 紐約 Will Barnet Student Show 首獎
2015 - 2017 紐約 視覺藝術學院藝術系 特別獎學金
2015 - 2018 澳門 文化局文化藝術學習資助計劃 學士學位獎學金
2015 - 2017 澳門 全藝社 獎學金
2008 香港 城市文學創作獎 散文組優異獎
相關工作經驗
2022 澳門 澳門大學蔡繼有書院 繪畫工作坊導師
2020 - 2021 紐約 紐約州立大學 Purchase 學院 繪畫課程導師
2012 - 2019 澳門 「雋文不朽」澳門文學節 節目統籌
2018 紐約 村上隆 Kaikai Kiki 工作室 版畫製作助理
2015 - 2017 紐約 視覺藝術學院 多媒體室助理
2015 - 2016 澳門 《澳門特寫》雜誌 專欄作家
2010 - 2011 澳門 《澳門特寫》雜誌 記者及製作助理