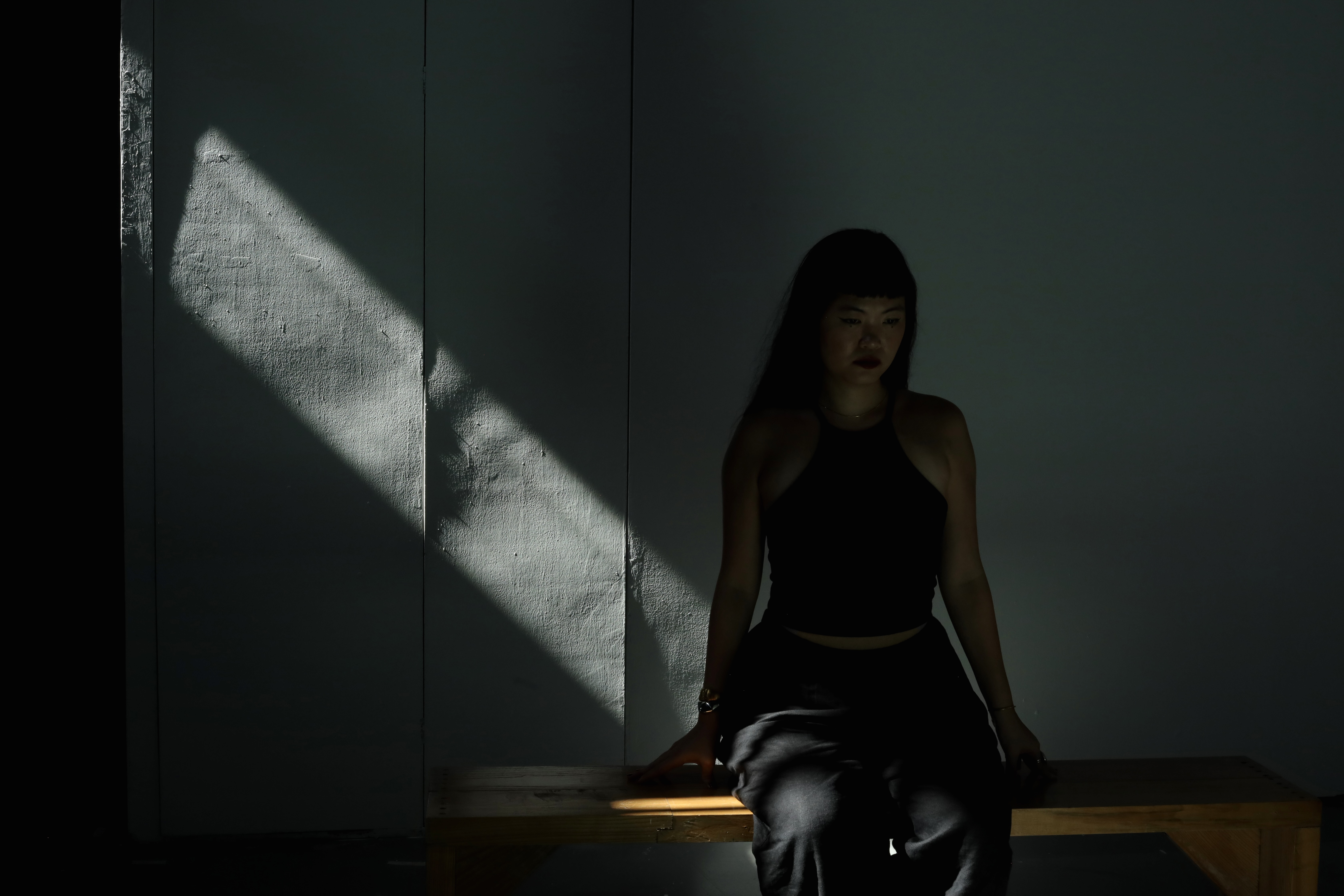 Crystal Wai Man Chan 陳慧雯
Unsettled living environments and a longing for home have become a central theme I try to address in my painting and sound installation. Historical events and cross-cultural influences have led me to further questions about the complexity of identity and representation. I combine both uncanny and familiar elements to address a position and feeling of displacement and estrangement. In my painting, isolated figures and desolate landscapes are drawn with expressive lines and brushstrokes. While in my sound installation, field recordings and improvised music are put together with the interior setting to create an otherworldly atmosphere, crossing a thin line between the tangible and intangible.
Nostalgia does not always cleanse the past. A certain kind of sadness remains adrift, violently disturbing. These emotional fragments are difficult to put back together, to form into a shape. Some things are very subtle and quiet, but remain over time. Often, only in retrospect do we see how the events in our lives were destined to unfold as they did. Only long after they have happened do we grasp their significance and impact on us. My work is an act of imagining the past, to see if I can get a hold of what fades and what remains.
crystalwmchan at gmail dot com
︎ Instagram
︎ Facebook
︎ SoundCloud
︎
YouTube
EDUCATION
State University of New York, Purchase College, Master of Fine Arts, Visual Arts, New York, 2019 – 2021
School of Visual Arts, Bachelor of Fine Arts, Fine Arts, New York, 2015 – 2018
SOLO AND TWO-PERSON EXHIBITIONS
"Conflicting Memories", Susan Eley Fine Art, New York, 2021
"
Mountain Surrounded by Sea
" with Benjamin Kidder Hodges, Creative Macau, Macau, 2020
"
idle hands are the devil's playthings
", Art For All Society, Macau, 2019
Will Barnet Award Solo Exhibition, National Arts Club, New York, 2018
"
I Am My Own Landscape
", Chinese American Arts Council, New York, 2018
"
I Am My Own Landscape
", Albergue SCM, Macau, 2015
"
Forever Someone Else
", Art For All Beijing, Beijing, 2015
"
Living in the Memories of the Future Self
", Livraria Portuguesa, Macau, 2014
"
Something About
" Photo Exhibition with Wong Kei Cheong, Stage, Macau, 2012
SELECTED GROUP EXHIBITIONS
Art Macao: Macao International Art Biennale, Macao Contemporary Art Center Navy Yard, Macau, 2021


"Ghost of Presence", Susan Eley Fine Art, New York, 2021
"Weight of the Air", PS122, New York, 2021
"Weight of the Air"
, Richard and Dolly Maass Gallery, New York, 2021
Macau Arts Salon, Clube Militar de Macau, Macau, 2020
AFA Autumn Salon, Fundação Oriente, Macau, 2020
ARTFEM Women Artists International Biennial of Macau 2nd Edition, Albergue SCM, Macau, 2020
New Women Macau Contemporary Art Exhibition, Auditorio do Carmo da Taipa, Macau, 2020
Art Taipei, Taipei World Trade Center, Taiwan, 2019
Shiro Oni Artist in Residence Exhibition, Onishi Jyuchiya Old Brewery, Onishi, Fujioka, Gunma, Japan, 2019
The Script Road Exhibition, Macao Contemporary Art Center Navy Yard, Macau, 2019
ARTFEM Women Artists International Biennial of Macau 1st Edition, Macao Museum of Art , Macau, 2018
Milan SS18 Fashion Illustration, Nick Knight x SHOWstudio, London, 2017
Will Barnet Show, National Arts Club, New York, 2017
"
Mind Set
" SVA Fine Arts Group Show, SVA Flatiron Gallery, New York, 2017
Illustration Exhibition, The Little Lodge, San Francisco, 2016
Illustration Exhibition, Rui Cunha Foundation, Macau, 2016
"
Brokedown Palace
" Juried Exhibition, SVA Chelsea Gallery, New York, 2016
"
Most and Salty
" GALO Photo Exhibition, Ox Warehouse, Macau, 2016
Affordable Art Fair New York, Metropolitan Pavilion, New York, 2015
Taichung Light Festival, Taichung, Taiwan, 2015
AFA 8th Anniversary Member Exhibition, Art For All Society, Macau, 2015
Art Mo International Art Fair, The Venetian, Macau, 2014
"
This Is My City
" Residencies Exhibition, Design Center, Macau, 2014
AFA Autumn Salon, Fundação Oriente, Macau, 2014
"
Symbols in Cultures
" Exhibition, Creative Macau, Macau, 2014
"Anno Equitum
" Horse Exhibition, Venetian, Macau, 2014
CCFA Macao Pavilion, The Venetian, Macau, 2013
Art Fair, Marina Bay Sands, Singapore, 2013
AFA Autumn Salon, Fundação Oriente, Macau, 2013
"
New York, New York
", MGM L2Gallery, Macau, 2013
"
Art Macau
", The Venetian, Macau, 2013
Affordable Art Fair New York, Metropolitan Pavilion, New York, 2013
Affordable Art Fair Hong Kong, Convention & Exhibition Centre, Hong Kong, 2013
The Script Road Exhibition, Old Court House, Macau, 2013
Waves: AFA 5th Anniversary Exhibition, Art For All Society, Macau, 2012
AFA Autumn Salon, Fundação Oriente, Macau, 2012
Contemporary Art Fair, Convention & Exhibition Center, Hong Kong, 2012
The Script Road Exhibition, Old Court House, Macau, 2012
ARTIST RESIDENCIES
Seatopia Artisit in Residence, Beidaihe, Qinhuangdao, Hebei, China, 2021
Shiro Oni Studio Art Residency, Onishi, Fujioka, Gunma, Japan, 2019
"
This Is My City
" Creative Residencies, Montemor-O-Novo, Évora, Portugal, 2014
SCHOLARSHIP AND AWARDS
State University of New York, Purchase College, School of the Arts Scholarship, New York, 2019 – 2021
Cultural Affairs Bureau Grant for Artistic and Cultural Study, Macau, 2019 – 2021
National Arts Club Will Barnet Show, First Prize, New York, 2017
School of Visual Art BFA Fine Arts Special Department Grant, New York, 2015 – 2017
Cultural Affairs Bureau Grant for Artistic and Cultural Study, Macau, 2015 – 2018
Art For All Society Art Scholarship, Macau, 2015 – 2017 City Literary Creation Awards, Hong Kong, 2008
RELATED WORKING EXPERIENCE
Introduction to Drawing Instructor, Purchase College, SUNY, New York, 2020 - 2021
Studio Assistant, Takashi Murakami - Kaikai Kiki NY Studio, New York, 2018
Coordinator, The Script Road - Macau Literary Festival, Macau, 2012-2019